If you're a proud owner of a Chanel bag, you know how important it is to keep it in pristine condition. Over time, wear and tear can take a toll on your beloved accessory, but don't worry - our Chanel bag restoration and repair services are here to help.
Chanel Hand Bag Restoration & Repair by Margaret's
If you love your Chanel handbag, you almost certainly love it and want to keep it in good shape. But what do you do when it gets stained, scratched, or worn out? 
That's where Margaret's Couture Cleaners comes in. We are a couture cleaner that specializes in handbag cleaning, repair, and restoration. 
Our expert artisans have the skills, tools, and techniques to handle any type of fabric, leather, suede, or exotic leather that your Chanel bag is made of. Whether you need a simple spot cleaning or a complete overhaul, Margaret's can make your bag look like new again.
Margaret's has been in the business of wardrobe care and cleaning since 1953. We have five locations in Southern California, as well as a convenient CleanByMail service that allows you to send your bag to us from anywhere in the world. 
Our experts have restored hundreds of Chanel bags over the years, and have a gallery of before and after photos to show our amazing results. You can trust us to treat your bag with the utmost care and respect.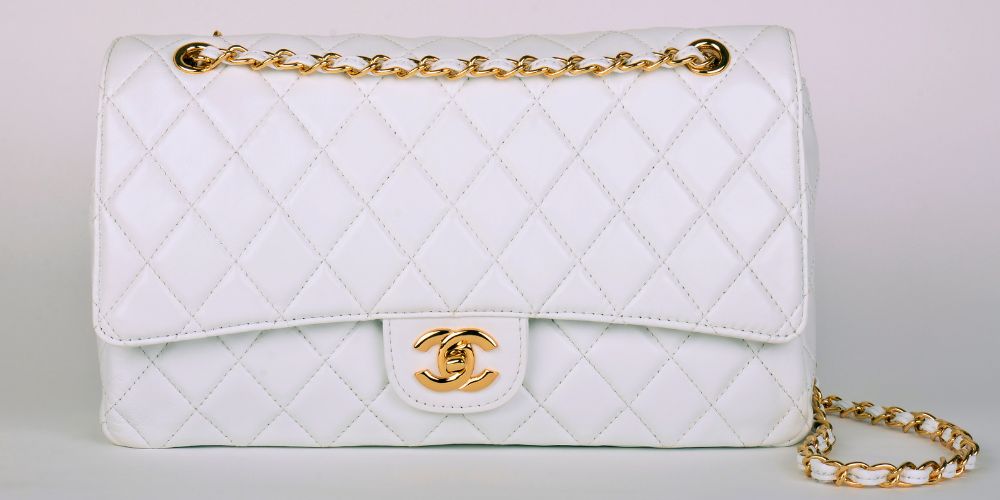 Popular Chanel Bag Repair Services
Chanel bags are timeless pieces of luxury and elegance, but they also require proper care and maintenance to preserve their beauty and functionality. At Margaret's, we offer a range of bag repair and restoration services for Chanel bags, including some of the most popular ones listed below:
Straps/handles
We can fix any damage to the straps or handles of your Chanel bag, such as worn stitching, torn leather, or faded color. We can also adjust the length of the straps to suit your preference.
Piping
We can repair the piping around the edges and corners of your Chanel bag, which often gets worn out over time. This can help prevent further damage and improve the structure and shape of your bag.
Inner lining
We can repair or replace the inner lining of your Chanel bag, which may get stained, ripped, or loose over time. We use high-quality leather linings crafted from scratch to fit your bag perfectly.
Other services
We can also handle any other repair or restoration needs for your Chanel bag. Don't let your Chanel bag lose its charm and value. Trust Margaret's for all your bag repair and restoration services and get your bag back in top condition.
Handbag Restoration & Repair Process
At Margaret's, we know how to take care of your precious handbags. Our handbag restoration and repair process is simple and convenient. You just need to:
Contact us for a free quote and shipping instructions.

Send us your handbag and let our experts work their white-glove magic.

Receive your handbag back in pristine condition.
We use specialized tools and techniques to clean, repair, and restore all types of couture handbags, from leather to fabric, from Gucci to Chanel.
If you want to give your Chanel bag a new lease on life, you can choose from our range of service inclusions. We offer:
Chanel handbag restoration: A complete makeover for your bag, including external and internal cleaning, color restoration, stain removal, piping and edging repair, strap and zipper cleaning, and lining repair.
Extensive Chanel bag cleaning: A thorough cleaning for your bag, including external and internal cleaning, strap, and zipper cleaning, and metalware cleaning.
Additional services: Any other repairs or replacements that your bag may need, such as strap repair, piping repair, zipper replacement, sewing stitching, and shape restoration.
Protection and ozonization: A final touch to protect your bag from dirt and damage, and to remove any odor, bacteria, or fungus from your bag.
Margaret's Expert and Reliable Chanel Bag Repairs
If you have a Chanel bag that needs some TLC, you can trust Margaret's to take care of it. 
We are experts in Chanel bag repairs and restoration, and we have the skills, tools, and techniques to handle any type of damage or wear. 
Whether you need a simple cleaning or a complete makeover, we can make your bag look like new again. Contact us today and get a free quote for our services.
Valentino Handbag #3
Description of Services: A Rodeo Valentino boutique's heartbroken client brought into their store what was a brand-new purse that she had recently purchased from them. This beautiful lambskin bag with contrasting quilted stitching and studded accents was destroyed (or so they all thought) by a large hand sanitizer spill. The client was going to throw it away...until they recommended Margaret's Cleaners. They had learned over the years if there was any chance of successful cleaning or repairs of high-end items, Margaret's is the only place to go.
"Margaret's did not disappoint them! When it was delivered back to the store the employees raved! Here are some of the comments we heard... "Blown away" ... "An amazing save" ... "Truly astonishing" ... "Looks new again" ... "As though damage never happened" ... "Absolutely spectacular work!"
"Margaret's is hands down, THE BEST!"
— The staff at the Rodeo
BEAUTIFUL RESULTS!
UPS just delivered my second Prada handbag to be cleaned by your business. I can't tell you how impressed I am by the beautiful results! The woman that called to tell me it was being shipped was so helpful and thorough. She was delightful and really went out of her way with customer service.
Though I live the majority of the time in Denver, I will always make a point of using your business whenever I am staying at our second home in La Jolla. Thank you!
— Jan B., New York"
No one in Tucson could clean my bag and have any confidence in the results. I found Margaret's on the internet. Thank you for the wonderful job that you did on my handbag. It looks better than new! I'm giving your information to my local dry cleaner as they are very interested in being able to refer clients to you who have similar problems as mine.
— Elizabeth P., Tucson, AZ
EXEMPLARY WORKMANSHIP
While at Neiman Marcus in San Diego, a wonderful sales girl recommened your store. Thank you for you exemplary workmanship. It's a pleasure for me as a client!
— Cindy E.
VERY PLEASED
I was not able to find someone locally [to fix my purse]. I did an internet search and based on your website and prompt response to my email, determined that your company was probably the best! I was very pleased with how everything was handled. In today's world, it is wonderful to find a company with ""old world"" values. Thank you so much!
— Jayne E., Cincinnati, Ohio
PRESTINE RESTORATION
You have restored two of my purses, one a vintage 1948 purse, to pristine condition. I just wanted to say thank you!
— Sheila G.
Handbags, Shoes & Accessories Cleaning Request
Margaret's Cleaners offers complimentary pick-up and delivery with our Valet Delivery Service throughout much of Southern California. Our delivery representatives receive extensive training, enabling them to answer most of the questions you may have about your order. In addition, we give you text and phone access to your driver directly. Your representative also keeps track of your special delivery instructions and preferences. The comprehensive profile we maintain for you makes sure that we'll always satisfy your dry cleaning and delivery needs. We service homes, businesses, retail stores, bridal salons throughout San Diego and Orange Counties, and much of Los Angeles County, including Beverly Hills. In addition, our CleanByMail service is available Nationwide.